Bistrot, coffee shop, ice cream parlour.
It is the place for gourmets at the Tiberina island.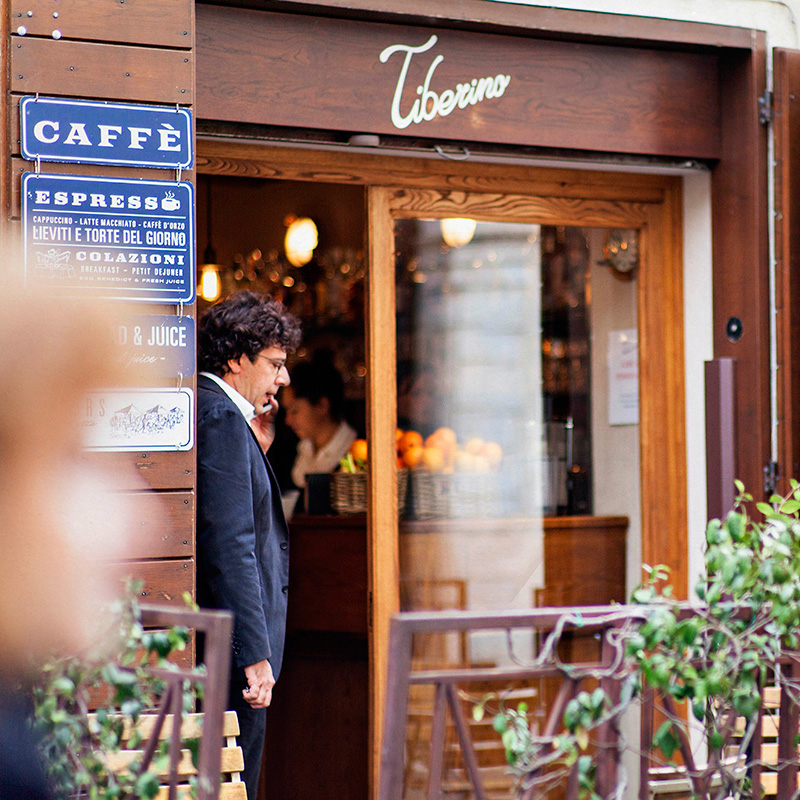 Tiberino boasts a unique location in Rome, L'isola Tiberina (The Tiber Island), and has its outdoor tables on "Ponte Quattro Capi" and "Piazza S. Bartolomeo", just opposite the basilica which bears the same name, dating back to 1000 A.D. It fits business lunches, aperitifs with friends, and romantic dinners.
At Tiberino you start the day in the morning with an espresso and end it with a drink at the square or at the bar counter, after dinner.
Tiberino offers a cuisine that combines tradition and novelty.
since 1936
The historical bar Tiberino, on the Tiber Island, has always been run by Bungaro family.
It all started with Grandpa Giuseppe, who opened the small café at Via Ponte Quattro, followed by his son Alfonso who in the 80ies added the food corner and the tobacco shop.
In 2002, Giuseppe Bungaro, together with his mother Mirella,has introduced the homemade ice cream shop.
The turning point has come in 2015 when Giuseppe (the grandchild!) keeping the legacy of the past has innovated with a new style recalling the bistrot ambience and with italian and roman delicious cuisine.
Contacts
For any information, fill out the below form.
Tiberino
Opened everyday
from breakfast to after dinner
Via Ponte Quattro Capi, 17-18
00186 – Roma (Isola Tiberina), Italia

—
tel: +39 06 6877662
email: info@tiberinoroma.it